Here is the Wordle.net word cloud and abstract for work I co-authored, titled, "Towards a Sentiment Analyzing Discussion-board," which will be presented at the 50th Hawaii International Conference on System Sciences on January 7, 2017. This work is a collaborative effort with help from student-researchers Glo Mercado, Benjamin Ramirez, Jose Rodriguez and Asst. Professor Evren Erylimaz.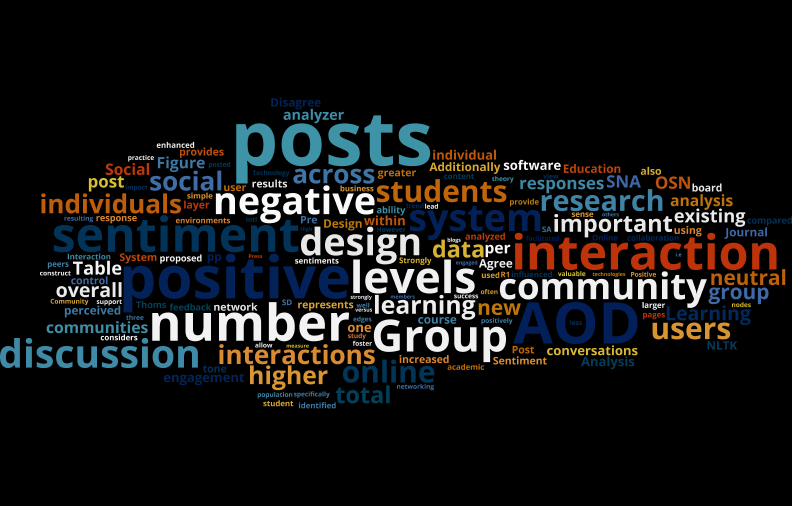 Abstract: In this paper we present the design and construction of a sentiment analyzing discussion board, which was used to support learning and interaction within an existing online social networking (OSN) system. More specifically, this research introduces an innovative extension to learning management software (LMS) that combines real-time sentiment analysis with the goal of fostering student engagement and course community. In this study we perform data mining to extract sentiment on over 6,000 historical discussion board posts. This initial data was analyzed for sentiment and interaction patterns and used for guiding the redesign of an existing asynchronous online discussion board (AOD). The redesign incorporates a sentiment analyzer, which allows users to analyze the sentiment of their individual contributions prior to submission. Preliminary results found that the proposed system produced more favorable outcomes when compared to existing AOD software.
Citation
B. Thoms, E. Eryilmaz, G. Mercado, B. Ramirez, J. Rodriguez. "Towards A Sentiment Analyzing Discussion Board," Hawaiian International Conference on System Sciences (HICSS 50), Waikoloa Village, HI, Jan. 5-8, 2017.